Latest posts by Asma Rehman, LPC
(see all)
As we discussed in our last post, there are many reasons why folks choose online therapy. Receiving therapy online can be convenient and less anxiety provoking than traditional therapy. It can widen the pool of therapists for you to choose from so you can find a more comfortable fit. Also, it can reduce missed appointments due to transportation or logistical issues. However, while online therapy is a valuable alternative to in-person therapy for many people, it's not for everyone.
Read: What to Expect During an Online Counseling Session
If you're deciding whether online therapy is right for you, you may want to ask yourself some questions beforehand. Remember, what works for you may not work for someone else, so it's about determining what is a good fit for you personally. Here are some questions that can help you decide if online therapy is right for you:
Is my therapist licensed?
What is the license type of the person you're thinking of working with? Will you always be meeting with the same therapist? Just as you would expect to be working with a licensed professional if you went to therapy in an office, you should be able to verify the credentials of the person you're working with online. Also, even if your therapist has a license, make sure that they are qualified to be providing mental health care in your state.
Is it secure?
Any therapist offering online therapy should be able to reassure you of the security of the platform they use to conduct online therapy. You can ask about things like encryption and privacy and how your data is stored. Remember, therapists are professionals at keeping things secure. They are bound by the law and ethics to keep your information private, and it's a responsibility they take very seriously.
How does payment work, and do you take insurance?
It's a good idea to familiarize yourself with the costs of therapy beforehand, so you know what you're getting into. You can ask your potential therapist how they will process payments (do you keep a credit card on file? Will your therapist send you an invoice?) and if they take your insurance. They may be able to help you verify your benefits to see if you have coverage for this type of service if you're not sure.
Is this a sustainable way for me to communicate?
Do you prefer to talk via text message? Some online therapy portals offer services with unlimited text messaging. If that's not a mode of communication that works well for you, you should take that into consideration. You may want to find an online therapist who you can video chat with if face to face communication is important to you.
What tools will I need?
If you need access to a computer or phone to receive therapy, it's important to make sure you have an easy way to get to the tools you need. If you share a computer, will you be able to use it as needed? Do you have a reliable internet connection? Is there software you will need to download to speak with your therapist? Do you just have to follow a link? What happens if one or both of you have technical difficulties? It's a good idea to have a plan in place for what happens if your primary method of communicating goes awry.
Looking for a reliable online counseling service? Our blog post, "BetterHelp Review: An In-Depth Look," is your ultimate resource! We've taken the time to thoroughly evaluate BetterHelp and present you with a comprehensive review. Learn about its functionality, weigh the pros and cons, and find answers to frequently asked questions. If you're considering online therapy, our article will equip you with the knowledge you need to make an informed choice.
Is online therapy convenient for me?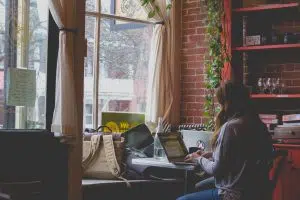 Many people aren't able to access therapy for a number of reasons, including cost, physical accessibility, and stigma. If access to therapy is important to you, online therapy can be a very convenient way to seek treatment. You can receive therapy right in the comfort of your own home. Weigh the pros and cons of what is important to you personally while seeking therapy to see if online therapy is right for you.
Online therapy isn't for everyone, and that's okay! We offer both online and in-person therapy at our Houston office. Our professional and dedicated therapists and counselors are waiting to help you. Don't hesitate to make an appointment for online counseling services if you think we can help. Contact us at (832)413-2410, or you can book an appointment online or schedule an online counseling session. We're licensed to offer online counseling for the following states: California, Colorado and Texas.