Latest posts by Asma Rehman, LPC
(see all)
Going through the holiday season during your grief recovery period can be challenging and painful. The thought of not having your loved one around can turn family gatherings into stressful events, especially if your family have particular traditions that involved the participation of the loved one.
Read: Coping with the Stress of the Holiday Season
During this holiday, if you are having a difficult time acknowledging your loss, we recommend that you think about creating a small healing ritual as a part of your grief recovery. Connect with a few close friends and family members that you feel safe and can be vulnerable with and remember your loved one during this special time of the year. You can also have this small ritual by yourself, whatever makes the most sense to you. The benefits are that you may feel more connected and grieve in your unique way to help you heal.
When it comes to starting new rituals and traditions as a part of your grief recovery, keep it simple. Holiday rituals should bring hope, joy, and comfort to those who take part in it. It allows you, your family, and friends the room to embrace the changes that will take place in your loss. The ritual itself will serve to remind you of the significance of your loss while bringing security to you for what the future may hold.
Read: New Year's Resolutions Recommendations From a Therapist
Most traditions can become too elaborate, causing more stress at the end of it because you may have built expectations around it. Once it gets rigorous and complicated, people won't want to be a part of it. You will then lose the meaning of having the healing ritual in the first place. Here are some tips to help you along in creating healing rituals for the holidays:
Start a conversation. If you would like to do something special to remember your loved one and would include your family and friends into the ritual, ask each person what significant memories they have of their loved one during the holidays. Conversations are a considerable part of the grief recovery process, especially if you are looking to start a small ritual to help with your grieving process during the holidays.
Being flexible.Be open and prepared for the significant changes this holiday season with your loss. Changes can be hard, but being present in these changes will help your family stay connected despite your holiday grief. Keep holiday rituals flexible to accommodate the adjustments to your family dynamic. Otherwise, they may become more bothersome than therapeutic in your grief recovery process.
Define the meaning of the rituals.Rituals become routines if they are not meaningful to your family. The holiday ritual should merely be a time to bring family and friends together to connect with one another.

Examples of small rituals to commemorate your loss
Write a letter to your loved one expressing your feelings during the holidays
This simple holiday ritual can be done by yourself or within a group, where you can write a letter or find a special card to record your emotional highs and lows with the loss of your loved one. Reflect on your journey of grief in the past few months leading up to the holidays as well as your hopes for the future. From there you can gather a box of these letters from friends and family and do with it as you please. Whether that's keeping it as a keepsake, burying it in a special place outside, or have one of your friends read the letters to your ritual group, this ritual will help you feel more connected to your loved one, as it also serves as a grief journal.</
Sharing stories
Bond over stories with your family and friends and create a ritual group to share stories about your loved one. Have everyone in the group recall their favorite recollections and tell stories about holiday memories that involved your loved one. By sharing positive memories, you can share your loss in a loving way amongst those involved in your loved one's life, allowing you to connect during the grief recovery process.
The loss of a mother is a profound experience, and it can be especially challenging on Mother's Day. However, you don't have to navigate this difficult time alone. Our blog post, "5 Tips for Coping With Mother's Day Grief," provides practical guidance and emotional support to help you cope with your grief and find comfort on this special day. Whether you've recently experienced a loss or are struggling years later, our post offers actionable tips to help you cope and honor your mother's memory.
Have an evening gathering or a memorial
A gathering or a memorial to your loved one will help you honor them. You can gather at the graveside, a memorial area, or a dinner at your home. Here are some other ideas for a gathering to create your holiday rituals for your grief recovery:
Preparing a special menu for your loved one's favorite dishes
Lighting a candle in memory of your loved one during a special holiday such as over Thanksgiving dinner or the lighting of Hanukkah candles.
Toast to the great memories of your loved one
Playing your loved one's favorite holiday songs or movies
Volunteer or donate to a cause
A great holiday ritual to honor your loved one is by giving your time or financial resources to help others. It can be giving a gift to your loved one's name, helping others is an admirable way to pay respects to your loved one. Perhaps your loved one had a special cause that was close to their heart, why not offer a scholarship in their name or volunteer your time for that cause during the holidays? Putting your eyes on others is a healthy way to process the pain of your loss during your grief recovery period.
Decorate with the rest of your family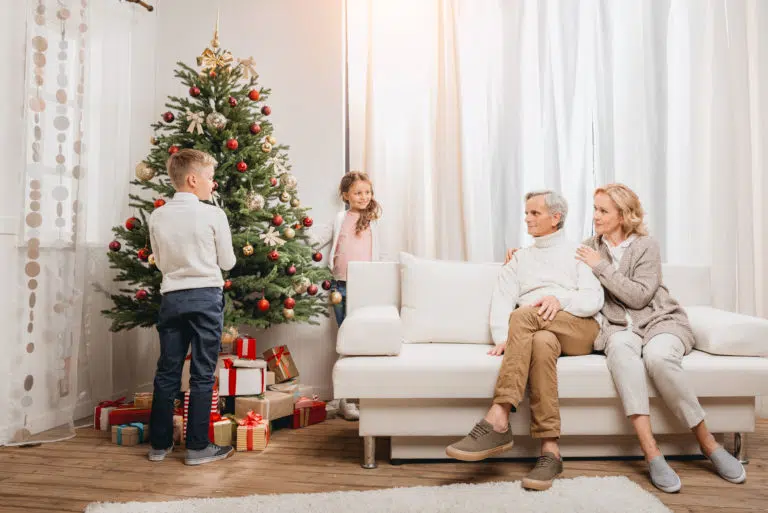 As a part of many family's holiday traditions, decorating for the holiday season is something to look forward to partaking. In respect of continuing the tradition despite your loss, you can create new rituals to decorate with the rest of your family. Perhaps it's decorating a wreath with items that reminded you of your loved one or displaying pictures of happy memories of loved ones; a healing way to grief is to craft with your children or grandchildren.
If you want more help and tips to enjoy this holiday season more, you can contact our therapist at the Grief Recovery Center in Houston, TX for more info today.
Start the New Year off right and take control of your mental health with therapy! Here are 6 Reasons to Start Therapy in the New Year to help you address mental health issues, set goals, and develop healthy coping strategies. Learn how therapy can help you create positive change and a better outlook in life.