Latest posts by Asma Rehman, LPC
(see all)
There are many counseling and therapy professional services in Houston. It can be intimidating to seek help when there is so much stigma around mental health and counseling services out there. You may be wondering what you should expect and what can you indeed gain out of a therapist or a counselor. Or, you may be wondering whether the service would be suitable to your needs. These are legitimate concerns shared by many of our patients who see our licensed professional therapists. Here is what you can expect during therapy or counseling with one of our specialized professionals.
Couples Counseling
Difficulties with relationships is a common cause of stress and anxiety to any couple. With the help of our licensed and professional team for couples counseling, you can expect to get a lot of help in rebuilding your relationship. You will increase your insight into your relationships with your spouse. And, if there was a breach of trust or infidelity in your marriage, couples counseling can help you work through your difficult time together.
Individual Therapy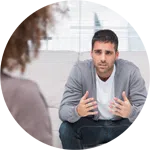 Individual therapy is usually sought for personal reasons. These include anxiety issues, addictions, relationship issues, and other mental health problems. You can expect to gain essential techniques to improve the way you cope with everyday stresses and challenges. Something you can look forward to as well is the one-on-one help to improve your situation in a confidential and non-judgmental manner.
Family Therapy
With our family therapy sessions, our clients can expect to learn new skill sets in collaborating with family members. Your family may gain new a new understanding amongst spouses, children, and extended family members. Our licensed counselors are there for your family's growth through life transitions. We will also help you deal with any conflicts and challenges, mental health issues, and addictions. Your therapists may also recommend individual counseling, support groups, and classes.
Read: How to Explain to Your Loved Ones that You Are Receiving a Counseling Services
What to Expect During Your First Session
Most initial counseling services are a time to communicate why you are seeking professional help in the first place. It is a chance to talk about the history you have and the challenges you are facing as an individual, a couple, or as a family. You can expect to fill out a questionnaire or go through the first interview with questions asked about your situation. There are two reasons for this preliminary meeting, first is to build trust and provide comfort in opening up to your therapist. The second reason for the interview is so that your counselor can begin to assess what the best program or solution is for you.
Your counseling session may need you to recall details about your life. It can include your childhood, work history, education, family relationships, and romantic relationships. This data helps your therapist gain a good grasp of where you stand in the present today due to your histories in the past. Being an open book to a complete stranger can be difficult, as such, do not feel obliged to tell your therapist about every detail. It is okay to mention that you feel uncomfortable to talk about specific aspects of your life for the time being.
The most important thing is to remember that you will gain the most from your therapy session by being communicative. How much you learn out of your time with your counselor depends on how much effort you put into it. It also helps if you follow through on the homework and techniques that your therapist may recommend for you.
Subsequent Visits
After the first few sessions with a particular therapist, you should have a good feel for the connection you have with your therapist. If you do not feel comfortable, be honest with your therapist. Chances are, they may not be a good fit for you and it may be best to try someone else.
All subsequent visits to your counseling sessions are devoted to helping you set goals for the future. Your therapist may challenge you to attempt them. And, they will help you resolve any problems you encounter to achieve the changes you were seeking in the first place. If you ever feel like you disagree with anything, it is essential to communicate your concerns and feelings about it.
Different counseling methods and strategies are used, depending on your therapist's and your preferences. They may give you direct feedback on your progress, or they may ask many questions for you to draw your conclusions yourself. It rests on what you communicate to your therapist, as they can adapt to best guide and positively support you.
What to Expect Long-Term
Improvement is what you can expect long-term from your therapy sessions with an experienced counselor. Keep in mind, however, that therapy is intended to provide you with long-term solutions which requires your time, commitment, and effort. You can only expect progress if you can honestly say that you have been dedicated and willing to make difficult changes in your life.
As you grow through your counseling sessions, different treatments will be offered based on and supported by scientific methods and research. Typically, these treatments are routine and structured with specific goals, strategies, and techniques. Your therapist will also recommend tasks and exercises for you to complete outside of your sessions. That way, you will get an opportunity to practice what you have learned outside of the counseling room while you learn how to integrate yourself and cope with your challenges on your own.
When you are at the end of your treatment and improvement is noted, your therapy sessions will taper off to less frequent visits. Success is dependent on whether you are willing to make changes in your life to follow through from your meetings. It can also mean different things to different patients. Overall, counseling and therapy have shown to improve many of our patients' lives. So, whether you are going through some rough patches in your life, or you just could use a little help around particular issues, you can contact us at the Grief Recovery Center in Houston, TX for more info today.