Latest posts by Asma Rehman, LPC
(see all)
Every July we recognize and celebrate the Bebe Moore Campbell National Minority Mental Health Awareness Month to help bring awareness to the struggles that racial and ethnic minority communities must endure regarding mental illness and access to mental health care. At the Grief Recovery Center in Houston, many of our clients have experienced barriers to mental health care that make it harder to get the support they need. 
What is the History of
Minority Mental Health Awareness Month?
Named after American author, journalist, teacher, and mental health advocate Bebe Moore Campbell, July has been recognized as National Minority Mental Health Awareness Month Since 2008 as an effort to bring awareness to the unique struggles that underrepresented groups face in regards to mental illness in the US.
Although this is only the 15th year of Minority Mental Health Awareness Month, the foundation for minority mental health equity was laid more than a century ago, by Booker T. Washington, who established National Negro Health Week in 1915 to bring awareness to the health disparities affecting African Americans caused by poor working and living conditions.
Unfortunately, National Negro Health Week and the office of Negro Health Work were either terminated or disbanded by 1951. This resulted in a significant shrinking of African Americans' voice in medicine and helping to establish the barriers and obstacles to mental health care BIPOC individuals face today.
Obstacles to Mental Health Care for Racial and Ethnic Minority Groups
Mental health affects everyone from all avenues of life, and good mental health is vital to everyone's well-being.
Despite this, A survey conducted by the CDC found that 23% of non-Hispanic white adults had received any mental treatment in the last 12 months, while only 16.6% of non-Hispanic Black and 12.9% of Hispanic adults received treatment.
Disparities in mental health, like these statistics show, are not uncommon. The differences tie in with the many barriers racial and ethnic minorities face compared to their white counterparts in regards to mental health care and access to it. Some of these barriers include cultural stigma, cost, and discrimination.
One of the biggest problems facing BIPOC communities– and the United States as a whole– is a lack of mental health care professionals and available services. According to the Health Resources and Services Administration, nearly 150 Million Americans live in federally-designated Mental Health Professional Shortage Areas. This stems from a shortage of mental health professionals and a high demand for those professionals.
Shortage of Mental Health Professionals
Rural areas often have few to no mental healthcare providers, which makes it hard to find care. On the other hand, long waiting lists plague urban clinics and providers. Because of this, it can take months to get help.
Those who are able to get an appointment might deal with high copay and insurance costs or inconsistent and inadequate treatment. Factors such as these make it difficult to access proper mental health care, especially in BIPOC communities where many rely on Medicare and Medicaid, which many therapists do not accept.
A lack of representation in the medical field contributes to other obstacles, such as cultural stigma and overall lack of awareness about mental health in racial and ethnic communities. Research from the American Psychological Association (APA) shows that 84% of psychologists and 88% of health counselors in the United States are white. This lack of representation also contributes to discrimination and mistrust and fear of doctors in many minority communities.
 And despite the APA seeing more BIPOC individuals earning psychology degrees and breaking into the psychology workforce, these major disparities in the field often mean people of color are less likely to seek professional help from a provider that they believe cannot understand or empathize with them and their cultural differences. 
How to support Minority Mental Health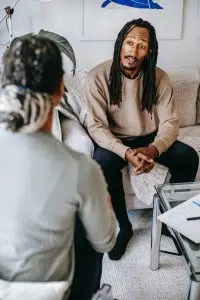 In order to spread awareness and celebrate Minority Mental Health, we all must do our part to promote health equity. You can help spread awareness by 
Learning more about mental health

Sharing

information and resources on mental health

with family, friends, and the people in your community.

Talking in a non-stigmatizing way about mental health.

Make ongoing efforts to avoid implicit bias, microaggressions, and other forms of discrimination.
As mental health professionals, we must work diligently to promote mental health equity. We can start by increasing access to mental health information and educational materials for minority groups and communities.  Ensuring these forms of communications are culturally and linguistically appropriate so that everyone can understand. 
At the Grief Counseling Center are committed to promoting mental health equity, providing mental healthcare services and information that incorporate perspectives, ideas, and decision-making from people from racial and ethnic minority groups at all stages of programming. Get in touch with our office today to make an appointment, or learn more about our ongoing support groups here.