Latest posts by Asma Rehman, LPC
(see all)
Now that we're coming up on a year in pandemic life, you might be feeling a sense of grief that you can't quite explain. You might notice yourself reacting more to the fact that we've been separated from our normal lives. You might be missing folks you've lost over this time, or feel like you've had a setback in your grief journey. Remember, your reaction is valid no matter what it is. Grief shows up in many different ways, and it can vary from person to person and situation to situation.
Grief is also tricky because it isn't linear. You don't work through grief and then never revisit it – working with your grief means incorporating it into your new life. Grief is full of milestones, and they're never-ending. Learning to manage your grief includes learning how to deal with tough situations like grief anniversaries. Many of us are feeling grief related to the anniversary of the spread of the pandemic in the US. It's been almost a year since our lives changed in a major way, and that can bring up a lot of painful feelings.
A grief anniversary is a date or event that is tied in with the grief you feel. The date itself can trigger a trauma or grief reaction. This is also known as an anniversary reaction. Even for folks who experienced a loss many years ago, it can be tough to be reminded of the person you lost or the way your life has changed since. Sometimes you might not even be aware that you're stressed or upset because of a grief anniversary. You might have noticed that you're feeling more irritable or depressed, but sometimes it takes someone else reminding us of the anniversary to pinpoint exactly why we're feeling so rotten.
It's important to remember that grief will never magically go away. We learn to adjust to living with grief, but there are times when the power of our grief can overwhelm us. If you're feeling overwhelmed because of a grief anniversary, here are some ways to cope:
Stay busy
This might not be for everyone, but some folks might feel better on a grief anniversary if they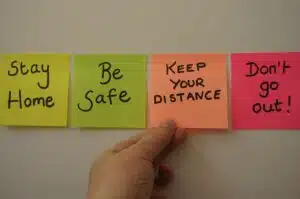 have ways to stay busy for the day.Finding ways to fill your time can help distract you from the acute pain you're feeling. Even though options may be more limited now, try to find a way to stay busy when you're feeling overwhelmed by grief. Maybe when you notice those feelings creep up, you can go take a walk or hike. Maybe you can cook an elaborate meal or chat with a friend on the phone. Anything that takes your mind off of it for a bit may help.
Make space for feelings
Staying busy won't work for everyone. If the idea of doing a bunch of stuff makes you feel even more overwhelmed, know that it's okay to sit in your feelings. Journal about what you're feeling, what you miss, what you wish were different. You don't have to wallow, but if that helps you can do that too. Whatever you're feeling is okay.
Cry
Crying is underrated. It's actually an important physiological response, and it can be a powerful emotional release. Some people fear that if they start crying they'll never stop, but know that it's okay to cry when you need to. Crying doesn't make you weak. If you struggle with getting yourself to cry, try watching a sad movie or listening to sad music to get the tears flowing.

Honor Your Loss
If you've lost a loved one, maybe make a plan to visit their resting place or hold a memorial with other folks who loved them. If you're grieving something else, find a way to honor that. Are you grieving your old life? Your sense of hope? Your year-long detour from real life? Whatever it is, make space for it. Maybe have a little memorial on your own to honor what was in the past and say goodbye. Whatever feels good to you works.
Remember, grieving isn't linear or simple. Just because you experience a period where your grief is more acute than other times doesn't mean that all of your progress is down the drain. You are learning to live with your grief, and learning how to manage a grief anniversary is part of that.
Recommended Reading: 5 Ways to Deal With the Grief of New Beginnings
If you're looking for more support as you come up on a grief anniversary, talking with a grief counselor can help. At Grief Recovery Center in Houston, TX our clinicians are all grief experts who can help you through your own grief journey.