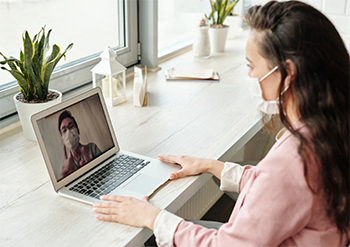 Talk therapy can be helpful for people from all walks of life and at any age. While traditional therapy involves meeting with a therapist in person, that option may not be available or suitable for everybody. Fortunately, today's technology gives us an alternative in the form of online therapy.
How Does Online Therapy Work?
In most respects, online therapy sessions are identical to sessions that happen in a therapist's office. You will meet with your therapist in a secure chat room if you prefer video chat or phone.
Your online sessions are confidential and can be used to address the same issues and struggles that may be addressed with traditional, in-person therapy. These may include depression, anxiety, bipolar disorder, relationship conflicts, and grief.
Benefits of Online Therapy
While online therapy is a relatively new phenomenon, people who receive mental health counseling online reap the same benefits as those who get in-person counseling. Here are a few of the most significant benefits.
Comfort and Convenience
One of the biggest benefits of virtual counseling is that you can attend your session from the comfort of your own home. There's no need to drive through traffic or bad weather to get to your session. You can participate from wherever you are.
Greater Privacy
Online counseling services offer greater privacy than in-person sessions. Our sessions are held on a HIPAA-compliant platform that protects clients' privacy. Our counselors and therapists are professionally obligated to maintain your privacy, so your information will always be safe with us.
Increased Accessibility
There is a shortage of mental health professionals in the United States and many people, particularly those in rural areas, may not have access to a nearby therapist to get the help they need. With online sessions, all you need is a reliable internet connection to meet with a therapist who can help you.
More Flexibility
When you meet with a therapist at counseling offices, you may be limited in the availability and flexibility of appointments. Some people can't meet during the day as they are unable to get time off from work. With online therapy, there is flexibility in when you schedule your sessions, making it easy to get therapy outside of work hours.
Safer Than In-Person Sessions
In some areas and situations, it may be risky for people to attend in-person therapy. With telehealth therapy, you can participate in a session from wherever you choose, without adding to your commute time or risking your safety. All online sessions happen on our secure video platform to protect your privacy.
Types of Teletherapy We Offer in Colorado
We offer a wide range of quality therapy options to allow people to get the help they need for mental health issues and interpersonal relationships.
When someone you care about dies, it can be devastating. Depending on the type of relationship you had and the circumstances of your loved one's death, you may need assistance overcoming deep or complicated grief. Grief and loss counseling can help.
Depression is common and can be dangerous if left untreated. Talk therapy can help people struggling with depression to understand their emotions and manage them, giving them the coping skills and support they need to lead happy lives.
As the most commonly diagnosed mental health issue in the United States, anxiety is widespread and often untreated. If you have an anxiety disorder, our licensed therapists can help you learn how to cope with and minimize anxiety.
Trauma can take many forms and so can abuse, whether it is in the form of sexual assault, violence, or emotional abuse. People who have experienced any of these things may find that the effects of trauma and abuse can last a lifetime if they are not treated. Our experienced trauma therapists can help anybody who has struggled to reclaim their life after trauma or abuse.
In every family, there are multiple relationships and relationship challenges to navigate. Attending family therapy via secure video chat can help you understand your family's challenges and rise to meet them, leading to positive outcomes for everybody involved.
Intimate relationships can be challenging because they encompass many levels of connection. Dysfunction in any area can negatively impact your relationship. Our secure teletherapy services can help partners get to a place of greater happiness and emotional wellness.
Children in their preteen and teenage years often experience life at a high level of drama and may struggle with mental health challenges. Online therapy appointments can help them learn how to manage their emotions in a healthy way that encourages strong relationships and life skills.
Online Therapy for Children
Children are born not knowing how to cope with strong emotions and may require help from a licensed therapist to learn coping mechanisms and understand their feelings. Our therapists have the knowledge and experience to help children of every age overcome their challenges and lead productive lives.
Relationship Conflicts
Relationship conflicts may arise in any relationship, including relationships at work and friend groups. Sometimes, an online counseling session (or several) can help all parties in the relationship understand the dynamics that have led to conflict, so they can move forward.
Managing anger is something that can be a struggle for many. Working with a licensed therapist is one of the best ways to learn how to manage anger and avoid allowing it to negatively impact your relationships and work.
Online Therapy in Colorado FAQ
Accessing mental health services online may feel unfamiliar or risky. Here are some of the questions we most frequently hear to help you understand how our services work.
Stop Putting Off Getting the Help You Need. Professional Support When You Need It with Online Counseling in Colorado
The availability of technology has led to a revolution in therapeutic services. Thanks to online counseling in Colorado, anybody can connect with a professional therapist at any time — and from the comfort of home. It's time to stop putting off getting the help you need and get professional support to help you lead a happy and productive life.