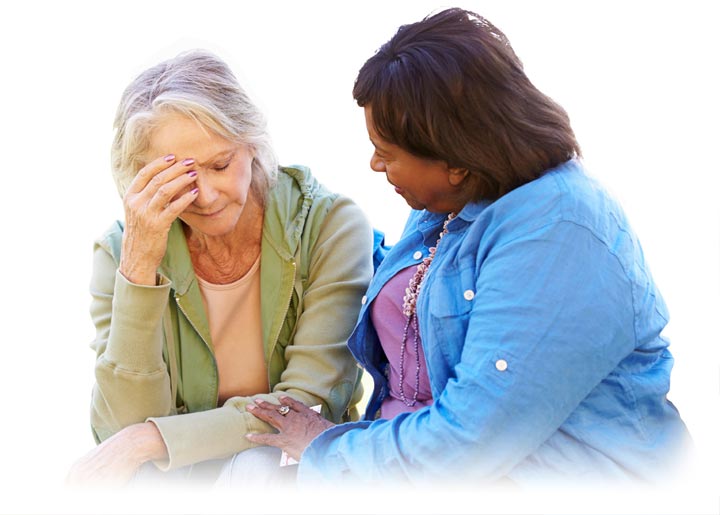 Grief affects many areas of our lives: emotionally, behaviorally, physically, spiritually, and cognitively. Because grief impacts us on various levels, it's healthy and important to cope with grief. Grief counseling encompasses many significant losses or major transitions that produce feelings of grief such as: death of a loved one's death, a divorce or break-up, miscarriage, pet loss or intangible losses such as loss of trust, job loss or moving. Grief counseling is provided by licensed therapists.
Dealing with Grief
Sharing about your grief and loss is a key component to healing. Many grievers say they need a safe and confidential place to grieve. Grief counseling promotes a therapeutic environment where the griever is encouraged to process about all aspects of their grief. Grief counselors acknowledge that everyone grieves in unique ways as each griever has a unique relationship to their loss. Failure to grieve can lead to grief resurfacing later in our lives, also known as unresolved grief.
Because grief has many layers, a multitude of topics are discussed in grief counseling. Here are some examples of common areas explored in grief counseling:
Relationship to the loss
Making meaning of the loss
Adjusting to a new normal
Feelings and emotions
Unhelpful comments by others
Rituals and anniversaries
Facing difficult transitions
Physical symptoms of grief
Life without loved one
Identity changes
Exploring triggers/grief bursts
Grief Therapy
Grief counseling can be in the form of individual, family, couples and/or group counseling. Individual grief counseling is helpful for clients who are comfortable sharing in a private, one on one environment with their trusted grief therapist. Family and couples grief counseling is beneficial for those that have experienced loss as a unit. This counseling focuses on how each individual in the unit is affected by the loss. Group counseling takes place with a group of grievers, usually 5-12 members, and is facilitated by a grief therapist. Groups are structured by type of loss (child loss, divorce, pet loss) or set up as general grief groups (a variety of losses). It is common, and often recommend,to incorporate different forms of grief counseling into the healing process.
Professional Grief Counseling
With the help of a grief counselor, you or your loved one can learn more about grief and loss, ways to cope with everyday struggles and have a safe place to share about your grief. Grief is one of life's most difficult challenges, and Grief Recovery Center is here to help you cope.
Contact Us
Contact Grief Recovery Center to schedule a free phone consultation by calling us at (832) 413-2410 today.